Watch Video
Bring safety always with you
Prospike. Compact container belt for used needles
Prospike. A Spencer idea
Making use of our manufacturing experience and our understanding of the world of emergency we have developed a line of accessories which will satisfy safety and protection needs of even the most demanding rescuer. A perfect example is the Pro Spike, a compact container for used needles and sharps.
Total safety on a clip
Pro Spike is a small single use container with a belt clip and an intuitive slot system which permits the storage of any used needles and sharps in total safety.
Ready for action
Pro Spike is the perfect solution to dispose of all the sharp material that you will need during the various hectic stages of rescue operations increasing the standard of safety and levels of protection both for the operator and all those who are on the rescue scene.
A simple solution for the safety of operators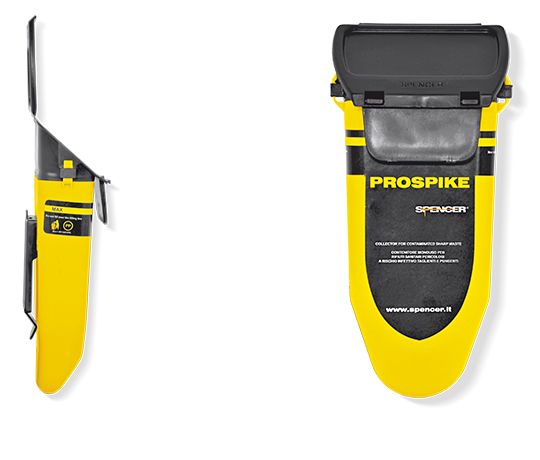 Pro Spike is a compact, single use, tapered container which permits correct waste management of sharps and needles on the spot and in total safety. It has been designed to simplify the operational procedures and to be always handy for use thanks to the clip which permits attachment to the belt, shoulder straps of the rucksack or on uniform pockets. Exclusive to Pro Spike is the slot system which helps to first remove and then safely dispose of the wastes. Pro Spike is manufactured in plastic and has all the labelling required for dangerous waste. It is a single use device and can be destroyed with its contents.

Dimensions: 90 x 54 x h185 mm [3.54 x 2.12 x 7.28 in]
Weight: 88 g [0.19 lbs]
Download
Visit Spencer
For more information, please contact our sales office or visit the website www.spencer.it.